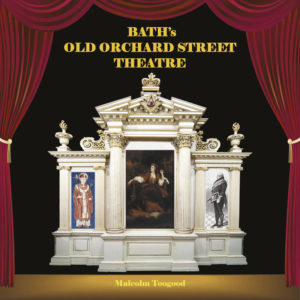 Bath's Old Orchard Street Theatre
by Malcolm Toogood
ISBN: 9780956423009
Non-Fiction Paperback
210mm x 210mm – 96 pages
RRP £9.95
This book describes the history of the original Bath Theatre Royal building stretching back 265 years to when it was built in 1750. It covers the three main uses over that period, initially as the very first Provincial Theatre Royal, then as one of the foremost Catholic Chapels post-emancipation, and finally as the home to one of the oldest Masonic Lodges in the country.
It also provides background history of the City of Bath and of the three organisations that have owned the building, plus a section on the lives of some of the main people involved. These include: Sarah Siddons, one of the finest tragic actresses of all time; John Palmer who, as well as owning the theatre, introduced the nationwide system of Royal Mail coaches; Bishop Peter Augustine Baines, who founded Prior Park College, the first Catholic University in England; John Lum Stothert, the grandson of the founder of one of Bath's largest employers, Stothert & Pitt; and many more, including John Wood the Elder, William Hoare and Thomas Beach.
Lavishly illustrated with over 100 images, mostly in colour, this is a unique history of a unique building that is one of Bath's hidden gems.
Available Retail from